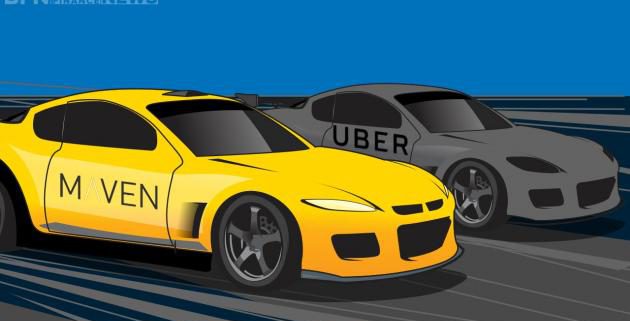 San Fransisco, California, is now at the forefront of a new scheme of car rental geared towards Uber drivers. In partnership with Maven, the car sharing the branch of General Motors (ironically a huge sponsor of Uber's main competitors, Lyft), Uber is offering the opportunity to rent either a Chevrolet Cruze, Chevrolet Malibu, or Chevrolet Trax, for $179 a week, including insurance. Although this fee doesn't include other fees or tax it is still being considered as great value for money for drivers.
The new program will be called 'Uber Vehicle Solutions', and is set to add another string to Maven's car sharing bow. General Motor's extensive fleet will give many people opportunities to work and utilize a vehicle for personal use.
This flexible new system can all be controlled through an app on the driver's smartphone, which will allow the driver to choose their car, their choice of pick up location, and length of rental period. There are not even any limitations on the mileage that can be racked up in that time.
This system is set to be a fantastic alternative to car ownership as drivers are able to use the cars for personal use, as well as make money through Uber fares. It's also a good way for drivers to rent a car with the intention of keeping their Uber miles off their personal vehicle and maintain value.
The move towards 'social driving' has been looked into before by the likes of General Motors, with their Express Drive program, which allows car owners to rent their vehicle to Lyft drivers on short term loan. The rates from Uber Vehicle Solutions seem to be in line with other short-term car rental schemes and show a steady move towards this being the norm.
The scheme will be piloted for 90 days and will keep its operations solely in the San Fransisco area for the time being, but it'll certainly be interesting to see how this takes off. Maven's recent expansion into the Los Angeles area of California shows they're not planning on slowing down anytime soon. Is car renting the future of car ownership?
https://www.simplycarbuyers.com/blog/wp-content/uploads/2016/11/630-is-general-motors-gm-maven-expansion-a-threat-to-uber.jpg
354
630
SimplyCarBuyers.com
https://www.simplycarbuyers.com/blog/wp-content/uploads/2017/07/logo@2x.png
SimplyCarBuyers.com
2016-11-20 10:52:21
2016-11-20 10:52:21
Maven and Uber's car rental scheme