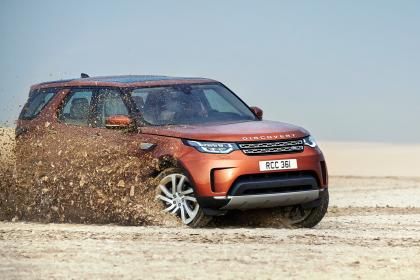 Following the massive success of the Range Rover Evoque, the 2017 Discovery has had a major restyling to refine it more along the lines of its little brother. That includes the removal of the practical and much-loved split tailgate, with the benefit of a wider boot space and a small bench that drops down to provide somewhere for people to sit at country fairs.
The shell has more curves and is less boxy than its predecessors, with a sportier rear and Evoque-rescue styling. The front has an unfortunate down-turned mouth effect around the spoilers, but otherwise the exterior looks immaculate. Off-road improvements allow it to cross water up to 90 centimeters, with 50cm of wheel travel for heavy terrain navigation, and a full suite of driving modes, including auto-braking and parking-assist. There are also driver-assist cameras to help get around tricky situations.
Inside the new Discovery features two rows of passenger seats. The rear set can be folded automatically using the smart dash, or a smartphone app as you approach the car laden with shopping. A wristband can unlock the car without needing to rummage around for a key. Nine USB ports allow passengers to keep their portable game consoles or phones charged. There are also plenty of cup holders and a cooler to manage drinks, with small storage points to keep personal items in place.
Under the bonnet, the pair of V6 engines feeds smooth power to the ZF eight-speed automatic gearbox, with outstanding pull in the low ratio gears. Prices start from £43,495 when the car hits UK forecourts in February. At the lower end of the range is a four-cylinder, 2.0-litre turbo diesel JLR model with a top speed of 128mph. It can go from zero to 62mph in a little over eight seconds.
If that diesel car ban does hit UK cities at some point, then there is a petrol option, with a supercharged three-litre V6 engine capable of up to 133mph. At the pinnacle of the range will be the V6 turbodiesel First Edition model, from £68,295.
https://www.simplycarbuyers.com/blog/wp-content/uploads/2016/12/dynamic_off-road-5.jpg
280
420
SimplyCarBuyers.com
https://www.simplycarbuyers.com/blog/wp-content/uploads/2017/07/logo@2x.png
SimplyCarBuyers.com
2016-12-19 02:51:29
2016-12-19 02:51:29
2017's Discovery is in for a big change!