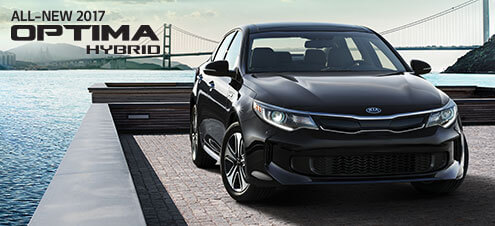 The last couple of years has seen a scramble within the automotive industry to produce new hybrid cars that appeal to motoring fanatics, as well as the Prius-buying eco-warriors who initially championed the movement at the turn of the century. With several large cities now promising to phase diesel engines off their streets in the coming years, there is an understanding of the inevitability that eventually, petrol-only engines will one day follow suit. Toyota, Audi, BMW, Mitsubishi, Volkswagon, Lexus and many other car manufacturers are launching hybrid models for 2017, with each model attempting to up the game in terms of power, reliability and of course, ultimately, desirability.
The new Kia Optima Hybrid certainly at first glance appears to tick many of the boxes we would like to see in a new hybrid model. The car kicks out 192 horsepower and 271 p/f of torque, which for a car of its class is not to be sniffed at. Fuel consumption is approximately 39mpg for city driving and up to 46mpg for motorway driving, so it certainly meets the criteria of being fuel efficient. The efficiency trumps that of the Ford Fusion, the Toyota Camry and is only slightly behind the Honda Accord, so the Optima scores well on that front.
The reworked aerodynamic chassis is striking and pleasing, if not perhaps exciting on the eye. Active grille shutters are a nice touch and no doubt go some small way to the Optima's impressive fuel economy. The interior is cleanly laid out, well finished and comfortable, but its inherently slightly conservative feel might not send most pulses racing.
With your foot off of the throttle, the 4 cylinder engine cuts out whilst the 50 horsepower engines kick in, allowing comfortable cruising under 62 miles an hour. Put your foot back down and the petrol engine kicks back in, delivering impressive acceleration and a satisfying top speed.
The Kia Optima Hybrid is a solidly impressive hybrid powered car that delivers the sort of fuel economy and green credentials that many consumers are looking for. The engines manage to hold their own against similar emerging models from other manufacturers, and the general quality of the ride and handling scores well too. The slightly conservative and understated feel to the car is likely to have a large bearing on the success of the model, but the essence of a quality hybrid is all there.
https://www.simplycarbuyers.com/blog/wp-content/uploads/2016/12/optima-hybrid.jpg
226
495
SimplyCarBuyers.com
https://www.simplycarbuyers.com/blog/wp-content/uploads/2017/07/logo@2x.png
SimplyCarBuyers.com
2016-12-15 10:33:19
2016-12-15 10:33:19
Introducing the new Kia Optima Hybrid