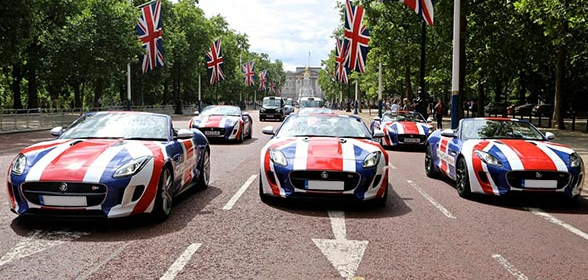 2016 was a great year for the Great British car industry. Over 1.6 million cars were built – three-quarters of these being shipped abroad. As a great year's trade closes, we thought we would have a look at what is in store in Britain's car news for 2017.
In the weeks after the UK public's shock vote for Brexit, the fortunes of the UK's highly globalized car industry were unclear – but not for long. Nissan announced in October that they would be building two new models, its coming X-Trail, and Qashqai, in Sunderland. The factory is now one of the most productive in Europe, with the global appeal of 'Made in Britain' and a fall in the value of the pound giving carmakers a double boost.
Other big marques have also been laying out plans for the new year. Jaguar Land Rover has submitted an application to build a vast new hub in Solihull to help manage its supply chain. Aston Martin is due to start work on a new factory in St Athan, in Wales, with the production of their DBX model starting in 2020. There was also exciting news in December from Rolls Royce, who are building their first 4X4 (although admittedly we will have to wait until 2018 before this goes on sale when it will become the world's priciest SUV).
In other economic news, 2017 should be a strong year for car buyers, who have plenty to choose from when considering what car to buy. British made new cars are enjoying a boom; exciting new technologies in assisted driving and electric-powered luxury cars are maturing, and the UK also has a used car market in very good health. 2017 will be a good year for car buyers.
Finally, more good news is in the pipeline after the November Budget: Britain's roads are set to see more investment as newly-installed Chancellor Philip Hammond announced in November a £1+ billion spend on roads. This will be spent on relieving congestion, sorting out some pinch points for traffic and building an expressway between Milton Keynes, Oxford, and Cambridge. All in all, drivers and carmakers alike are in for a very Happy New Year.
https://www.simplycarbuyers.com/blog/wp-content/uploads/2017/01/Great-Britain-Car-Hire.jpg
280
588
SimplyCarBuyers.com
https://www.simplycarbuyers.com/blog/wp-content/uploads/2017/07/logo@2x.png
SimplyCarBuyers.com
2017-01-02 12:28:31
2017-01-02 12:28:31
A Happy New Year for Britain's car industry!