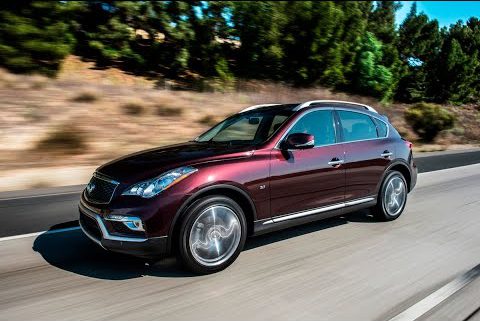 The Detroit Auto Show is one of the most exciting times of the year for car industry insiders and 2017 is unlikely to disappoint.
One of the main reasons for this will be the interest that is currently surrounding the Infiniti QX50. Enough details of the concept car have already been released to suggest that even at this stage, the QX50 may not be that far away from production status. There are certainly striking similarities to the QX Sport, but the reworked bumper and side skirts lend the QX50 a quite striking look that sits it comfortably between the existing QX30 and QX60 models.
Although at first glance it may look like a simple reworking, beneath the handsome chassis there sits a quite unconventional variable-compression turbocharged 2-litre engine. We've encountered variable compression engines before (Saab have previously toyed with it), but so far none have rolled off any production line. As well as apparently being significantly (over a quarter) more efficient than a similar sized engine, the inline four-cylinder monster churns out roughly 268hp and 288lb-ft of torque at the flick of a switch.
2017 is likely to be remembered as the year of the autonomous car and the QX50 has no intention of being left behind in that respect. Although details are a little sketchy to date, ProPilot semi-autonomous technology is expected to be an integral part of the QX50, managing to stop and start traffic, lane positioning and maintaining safe distances from other moving traffic. It has been suggested that it is likely to be very similar to what Nissan have been using in their Japanese Serena models; technology, it must be noted, that has so far worked very well.
So the engine, efficiency, body shaping and semi-autonomous technology are all reasons to keep a close eye on the Infiniti QX50. There are details of the QX50, however, which have yet to surface, such as the gearbox, dashboard, and interior. As those details are released it is unlikely to alter the industry and car buyers' perception that the Infiniti QX50 is likely to leave a big mark on the year ahead. That said, the Detroit Auto Show showcases the best new cars, including many luxury cars, so standing out at the event is never easy.
https://www.simplycarbuyers.com/blog/wp-content/uploads/2017/01/hqdefault.jpg
360
480
SimplyCarBuyers.com
https://www.simplycarbuyers.com/blog/wp-content/uploads/2017/07/logo@2x.png
SimplyCarBuyers.com
2017-01-07 10:40:57
2017-01-07 10:40:57
The Detroit Auto Show and the Infiniti QX50