The Mitsubishi Pajero has been a mainstay in the UAE for decades now, but for most of that time it has been primarily a car for Expats; particularly teachers. In recent years however increasing numbers of GCC citizens having been discovering the charms of this remarkable little SUV for themselves. Initially sales were for second cars, but as the current financial crisis has deepened, many have turned to it as their main vehicle.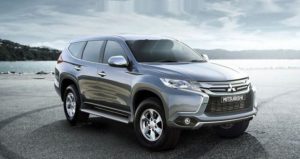 Five years ago an entry level Pajero would set you back 120,000AED but this price has plummeted to a mere 90,000AED now. While this price drop would in the past have discouraged many GCC citizens from buying a Pajero (many preferring to purchase the most expensive options available), the incredible abilities of the Pajero have earned the respect of true desert folk.
While the Mitsubishi Pajero is considered a huge car in Europe (where it is sold as the Shogun), in the UAE it is a mid-sized family car dwarfed by Land Cruisers and Patrols. Despite this it still has a dominating driving position that is a joy to all who drive it. Throw in fantastic toys, incredibly comfortable seats and plenty of leg room and you've got yourself a great car.
…but there are plenty of great cars out there, so why is this one slowly gathering a following from the locals?
The fact is that the respect is far from new. While many Emiratis have preferred to buy Nissan Patrols (partly due to the incredible speed possible with them once they have been tuned up), they have always been aware of what this little gem can do. On the road the Pajero is competent, a good car. Off road it is a beast and its small 3.5 or 3.8 litre engine produces performances that cars with twice that size would be proud of.
Years of rescuing untrained Westerners from the desert have allowed Emiratis to see what this wolf in sheep's clothing can do and they have been quietly impressed. Quite some time ago it became clear that the only reason a Pajero would ever get stuck in the Empty Quarter would be due to poor driving technique, they noted this and approved of the car. Now, with finances being a little tighter, GCC citizens are flocking to this marvel for themselves, and who can blame them?
https://www.simplycarbuyers.com/blog/wp-content/uploads/2017/07/Mitsubishi-Pajero-2018.jpg
683
1024
SimplyCarBuyers.com
https://www.simplycarbuyers.com/blog/wp-content/uploads/2017/07/logo@2x.png
SimplyCarBuyers.com
2017-07-31 17:51:03
2017-07-31 17:51:03
The worst kept secret, the Mitsubishi Pajero