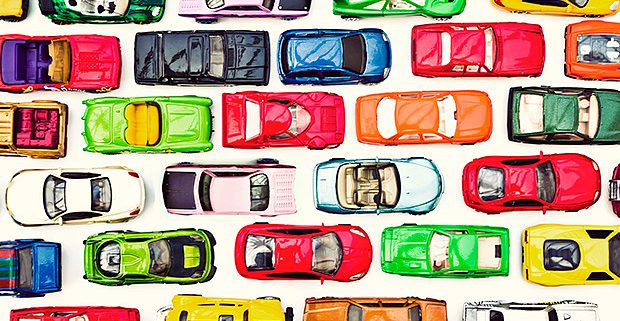 Cars have seemingly endless variety of color options, designed to engage with all types of buyers. The very wide variety of cars'colors and types we see in streets, tells a lot, it can reflect the variance of styles and tastes, and it can sometimes tell us how picky people are when it comes to a car.
Whatever the reason, it cannot be denied that color plays a huge role in sales. Statistics say 85% of people like a car, juts because a specific color is making it unique, and 93% perceive the color and the visual appearance as the most important factors when it comes to buying a car, like for example I might fall in love with a Maroon color of #Chevrolet while I would never buy the black one.
Other buyers might be addicted to #Audi no matter what the colors are, it is just about owning Audi!
This is all .. Psychology.
A study conducted found that drivers of black cars were twice as likely to be involved in an accident as drivers of softer, cream-colored cars.
Bright colors are preferred by people who drive performance-based cars. This might justify the bright red color of the typical Ferrari.
What Your Car Color Says About YOU?
Silver: You are calm, cool, elegant, futuristic and possibly detached
White: You are fastidious, enjoy a simple life, have a strong attention to detail and are possibly a perfectionist
Green: You are trustworthy, traditional and balanced, but can also be lively and occasionally hysterical
Brown/Beige: You are practical, reliable, down-to-earth and pragmatic.
Yellow: You are upbeat, intelligent and young at heart
Grey: You are calm, sober and very career-driven
Blue: You are confident, quiet and dependable
Red: You are energetic, dynamic and have a lust for life
Pink: You are gentle, loving and caring
Black: You are conservative, empowered, elegant and professional
Purple: You are creative, unafraid of stepping outside of the norm and happy to be seen as unique
Which one fits you best?
https://www.simplycarbuyers.com/blog/wp-content/uploads/2016/08/aa-car-colour_3456437b.jpg
388
620
SimplyCarBuyer.com
https://www.simplycarbuyers.com/blog/wp-content/uploads/2017/07/logo@2x.png
SimplyCarBuyer.com
2016-08-04 09:58:02
2016-08-18 16:08:13
What does your CAR's color say about YOU?