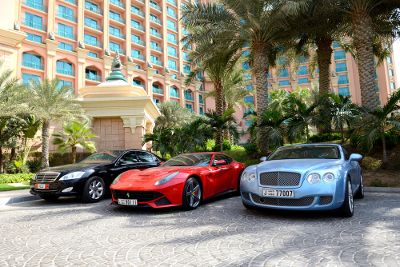 Here at Simply Car Buyers, we pride ourselves on offering our clients a unique service. Unlike other enterprises, we put your needs first, and try to give you the most pleasant selling experience we possibly can.
We buy any car in Dubai, with our ultimate goal being to save sellers all of the time and stress that goes with finding a buyer. When you come to us, we guarantee a super speedy sale, fair prices, and a premier professional service.
If you have a car to sell, here's why we are the perfect people to help you...
We can complete the sale in less than 25 minutes
Selling your car can be a drawn out process, and there is no way of knowing just how long it will take for a suitable buyer to put in an appearance. Unless, that is, you come to us. We'll take any car that you have to sell and can complete the entirety of the sales process in under 25 minutes.
We'll pay you a fair price
Nor will we take advantage of your desire for a quick sale to offer you a pittance. We really do value every one of our clients, and that's why we'll offer you a price that is fair to both parties.
You'll be paid instantly
When people make a decision to sell their car, it is often motivated by a desire to release the funds tied up in it. This may be because you want to use them to put towards another vehicle, or simply because your bank balance needs a boost. Irrespective of the factors driving you, you'll want to get your hands on your money as quickly as possible, and with us, you can. We offer you a choice of payment methods, so that whether you would like your capital by cash, cheque, or bank transfer, it's on its way to you before you even leave our office.
We will save you time
Not only will we buy any car, but we'll also save you the time you would ordinarily have to invest in a private sale. This is especially handy for those who have older or less sought after vehicles which would normally slow down the sales process. All that you have to do is approach us with the intention to sell and we can immediately set the transaction in motion.
You won't need to fill out lots of paperwork
Here in Dubai, selling a car can be a lengthy process which requires lots of paperwork and time spent dotting your 'i's and crossing your 't's. When you sell to us, this is no longer the case. We'll do all of the hard work for you, so that the process is made much simpler and easier, and ownership is immediately transferred from you to us.
We really will buy any car
What's more, when we say that we'll buy any car, we really do mean it. Irrespective of the condition of your vehicle, we will happily take it off your hands. Whether it's a gleaming supercar or a rust bucket that's spent the last few years parked outside your home, we're similarly interested, and if you contact us, we'll be pleased to make you an immediate offer. As they say, 'one man's trash is another man's treasure', and to us, every motor has its use.
We'll buy cars that are under bank finance
When we say we'll buy any car, we're even including those that are currently under finance. Although it is illegal to sell these through a private sale, Simply Car Buyers can complete the necessary legal documentation pre-sale, before clearing the loan for you. This means that if you're in a bind and can't afford to finish paying off what you've borrowed, we can step in and take care of things on your behalf.
We'll provide you with a free online valuation and car inspection
If you're still unsure of whether you want to sell to us, we can provide you with a free online valuation and car inspection before you commit to anything. This will enable us to give you a true idea of how much your vehicle is worth and how much we would be willing to offer you for it.
If you have a car to sell, contact us today. Whether it's tied up in a bank loan, old, damaged, or good for nothing but scrap, we can offer you a fair price to take it off your hands.
The transaction was quick & hassle free paperwork. I highly recommend using Simply Car Buyers
it was a hassle free and a completely genuine process. Got a cash cheque on the spot and didn't have to go through any other procedures
I sold my audi A8 2010 with price I couldn't imagine outside, got my cash immediately
Get your
free

online valuation now

If you're looking to sell your used car, and want a company that can offer you a free online valuation, free car inspection, and a fair offer at the end of it, don't approach just any dealer: come to Simply Car Buyers and see how we can help you.

Start Now